Description
Vaporesso GTX GO80 for CBD
The Tree CBD presents you with this rechargeable vape, to be used with your e-liquids. The Vapor Esso GTX GO80 Pod Kit is a refreshing update on a pen-style vape that features a magnetic GTX POD 26/22 for instant vaping, ideal for enjoying with The Tree CBD e-liquids.
The pod features a top-fill system and leak-resistant SSS technology, facilitating a hassle-free and easy filling process. SSS technology helps create a barrier that does not allow leaks and in this way you can take advantage of all the liquid.
The Vape GTX GO supports the GTX Coil New Version series. Coupled with easily adjustable airflow, built-in 3000mAh battery with 80W max output and TYPE-C fast charging capability, GTX GO provides a complete vaping experience.
The GTX GO is the first pen-style vape that comes with a Type-C fast charge, its compact size and shape gives a pleasant feeling in the hand, it is discreet and perfect to carry with you at all times.
We know that refilling is a big deal, the Vapor Esso GTX GO80 Pod Kit features SSS technology that facilitates safe and easy filling.
Vaporesso GTX GO80 for CBD – Magnetic Pod
Vapor Esso SSS Leak-Resistant Technology reinforces this magnificent POD to prevent e-liquid spills and leaks at all costs. In addition, the magnetic connection ensures a simple and 100% secure assembly for the 26/22 GTX pod.
Vaporesso GTX GO80 for CBD – Adjustable airflow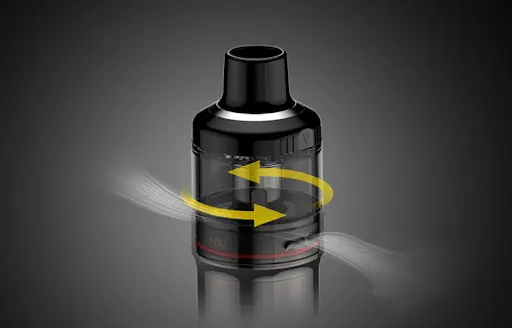 With this part of the pod magnetized, the flow is precisely adjusted and provides control to the user to regulate the amount of vapor that they want to enjoy.
Vaporesso GTX GO80 for CBD – 3,000 MAh battery with fast charging
Another of the strong points of this Pod is the battery of the GTX GO 80. With a capacity of 1,500 mAh, and a USB-C port, it provides fast charging to always have the pod ready. Even if you use your device too intensively, you can have it back to 100% charge in no time!
Vapor Esso GTX GO80 Pod Kit Features
Refillable Vape for CBD e-liquid
top fill system
Magnetic capsule with precise airflow adjustment
One-click satisfaction
Highly compatible with GTX coils
Leakage resistance SSS technology
Size: 22 x 110.3mm
Battery: built-in 3000mAh
Tank capacity: 2ml
Guaranteed without THC and without nicotine.
No alcohol, no animal extracts.
Contents
What is included in the Vapor Esso GTX GO80 Pod Kit?
1x Vapor Esso GTX GO 80 Battery
1x GTX Pod 22 (2ml)
1x GTX 0.6Ω Mesh Coil
1x USB Type-C Cable
1x Warranty card
1x User Manual
Format
The Vapor Esso GTX GO80 Pod Kit comes in electronic cigarette format, its rubber and metal case together with the shape and size of the GTX GO is what gives it a comfortable grip and a pleasant sensation in the hands.
Storage
Ideally, the Vapor Esso GTX GO80 Pod Kit should be stored in a cool, dry place, protected from light and strong odors to avoid any kind of contamination. Avoid direct sunlight and heat. For more information we recommend carefully reading the instructions for care and storage in the manual that comes with the kit.
For whom it is?
The Vapor Esso GTX GO80 Pod Kit is intended for anyone over the age of 18.
Safety information
Please note that the Vapor Esso GTX GO80 Pod Kit is a decorative and collectible item.
It should not be used during pregnancy or lactation. Keep out of the reach of children. You must be of legal age to use this product.